CAPF (UPSC) EXAMINATION, 2020
CENTRAL ARMED POLICE FORCES(CAPF) EXAM, 2020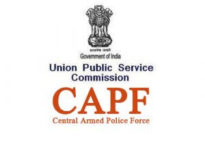 Central Armed Police Forces (CAPF) are organized with the primary role of border guarding for BSF, ITBP, SSB;
Security of sensitive establishments by CISF, Assisting Police to tackle Law & Order, Counter-Terrorist Operations, Counter Naxal Operations by CRPF, NSG.
Apart from the primary role, all CAPF are involved in assisting Police in Law & Order situations and also Army in Counter-Terrorist Operations. BSF & CRPF have assisted the army during external aggression in the past.
CAPF work along with both Army & Police in different roles assigned to them.
DATES FOR CAPF
DATE OF REGISTRATION: 7 SEPT 2020
ADMIT CARD : NOV 2020
DATE OF EXAM: 20 DEC 2020
HOW TO APPLY
CANDIDATES CAN APPLY FOR THE CAPF EXAM UPSC ON THE OFFICIAL SITE CLICK HERE
ADMIT CARD FOR CAPF
CANDIDATE'S ADMIT CARD WILL BE AVAILABLE ON THE OFFICIAL WEBSITE CLICK HERE
DATE FOR THE ADMIT CARD WILL BE UPDATED SOON!!
ELIGIBILITY CONDITIONS
(I)Nationality
No person who is not a citizen of India shall,
except with the consent of the Central Government signified in writing be appointed or employed under these Rules
Provided that nothing contained in these rules shall debar the appointment, enrollment or employment of a subject of Nepal or Bhutan under these Rules
(II)Sex
Both Male and Female candidates are eligible for appointment to the post of Assistant Commandants
AGE LIMIT
(a) FOR GENERAL AND OTHERS
A candidate must have attained the age of 20 years and must not have attained the age of 25 years on 1st August, 2019, i.e. he/she must have been born not earlier than 2nd August, 1994 and not later than 1st August, 1999.
(b) THE UPPER AGE PRESCRIBE WILL BE RELAXEBLE
(i) upto a maximum of five years if a candidate belongs to a Scheduled Caste or a Scheduled Tribe.
(ii) upto a maximum of three years in the case of candidates belonging to Other Backward Classes who are eligible to avail of reservation applicable to such candidates.
(iii) upto a maximum of five years for Civilian Central Government Servants in accordance with the existing instructions of the Central Government. Ex-Servicemen will also be eligible for this relaxation
However the total relaxation claimed on account of Government Service will be limited to five years.
(iv) Upto a maximum of five years if a candidate had ordinarily been domiciled in the State of Jammu & Kashmir during the period from 1st January, 1980 to the 31st day of December, 1989.
MINIMUM EDUCATIONAL QUALIFICATION
A candidate must hold a Bachelor's degree of a University incorporated by an Act of the Central or State Legislature in India
or other educational institutions established by an Act of Parliament or declared to be deemed as a University under Section-3 of the University Grants Commission Act, 1956
or possess an equivalent qualification
FEES FOR CAPF
| | |
| --- | --- |
| CANDIDATES | FEES |
| MALE (general and others) | 200 Rs |
| FEMALES | NIL |
| SC/ST | NIL |
SYLLABUS FOR CAPF
PAPER I
1. General MentaL Ability : The questions will be designed to test the logical reasoning, quantitative aptitude including numerical ability, and data interpretation.
2. General Science : The questions will be set to test general awareness, scientific temper, comprehension and appreciation of scientific phenomena of everyday observation including new areas of importance like Information Technology, Biotechnology, Environmental Science.
3. Current Events of National and International Importance : The questions will test the candidates' awareness of current events of national and international importance in the broad areas of culture, music, arts, literature, sports, governance, societal and developmental issues, industry, business, globalisation, and interplay among nations
4. Indian Polity and Economy : The questions shall aim to test candidates' knowledge of the Country's political system and the Constitution of India, social systems and public administration, economic development in India, regional and international security issues and human rights including its indicators.
5. History of India : The questions will broadly cover the subject in its social, economic and political aspects. This shall also include the areas of growth of nationalism and freedom movement.
6.Indian and World Geography : The questions shall cover the physical, social and economic aspects of geography pertaining to India and the World.
PAPER II
General Studies, Essay and Comprehension
Part‐A–Essay questions which are to be answered in long narrative form either in Hindi or English totaling 80 Marks. The indicative topics are modern Indian history especially of the freedom struggle, geography, polity and economy, knowledge of security and human rights issues, and analytical ability.
Part‐B–Comprehension, précis writing, other communications/language skills – in English only (Marks 120) – The topics are Comprehension passages, précis writing, developing counter arguments, simple grammar and other aspects of language testing.
______________________________________________________________________________________________________________________________________
FOR UPSC EXAMS 2020 DO CHECK THE BELOW LINK:
CDS 2020 : CLICK HERE
CSE 2020 : CLICK HERE
NDA AND NA II 2020 : CLICK HERE
ISS 2020 : CLICK HERE
CMS EXAMINATION 2020 : CLICK HERE
FOR MORE GOVERMENT EXAMINATION DO CHECK THE WESITE sarkarinaukrieasyalert.com
ALL THE BEST FOR YOUR PREPERATIONS 😉