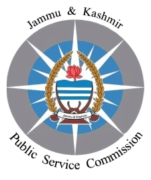 MEDICAL OFFICER RECRUITMENT
Jammu Kashmir Public Cervice Commision (JKPSC)
RECRUITMENT

DATES

for JKPSC ➢

HOW TO APPLY

➢
Starting Date to Apply Online: 05-08-2020 at 10:00 AM

Last Date to Apply Online & Payment of fee: 04-09-2020 by 23:59 PM

Tentative Date for Written Test: 01-11-2020
Candidates are required to apply online by using the website CLICK HERE
(Before applying candidate should read all the details given below)

QUALIFICATION

➢

FEES

➢
Candidates Should Possess MBBS or recognized Graduate Medical qualification included in the First or Second Schedule or part-II of the 3rd Schedule (other than licentiate qualifications) to the Indian Medical Council Act, 1956

For General: Rs. 400/-

For Reserved Categories: Rs. 200/-

For PHC Candidates: Nil


VACANCY

➢

AGE LIMIT

➢
Total Vacancy: 900
(More Details given Below)

Minimum Age Limit: 18 Years

Maximum Age Limit: 40 Years

Maximum Age for PH Candidates: 42 Years

Maximum Age for RBA/SC/ST/ALC/SLC/PSP/EWS categories: 43 Years

Maximum Age for Ex Serviceman Candidates: 48 Years


Pay scale

For Medical Officer Posts JKPSC Recruitment➢
Rs.52700-166700(Level 9)
Rs.52700-166700(Level 9)
Vacancy

For JKPSC Medical Recruitment ➢
| | | |
| --- | --- | --- |
| Sl No | Category | Total |
| 1 | OM | 450 |
| 2 | RBA | 90 |
| 3 | SC | 72 |
| 4 | ST | 90 |
| 5 | ALC/ IB | 36 |
| 6 | Social Caste | 36 |
| 7 | PSP | 36 |
| 8 | EWS | 90 |
Medical Officer JKPSC Recruitment
Official's

➢
Candidates have to

pay

the requisite fee through online mode only in the "SUBMITTED APPLICATIONS" menu in your account.
Note that the Online Application Form

once submitted cannot be edited.
Centre of Examination for Medical Officer Posts JKPSC

➢
i.The Examination will be held in Srinagar and Jammu centres.All the candidates shall indicate the option forexamination centre as indicated above.
ii.The allotment of centres shall be at the sole discretion of the Commission and once a centre is allotted to a candidate, request for change of centre will neither be entertained nor will the Commission respond to request for change of centre.
I M P O R T A N T ➢
The Commission has developed an online Application Form. The Application Form together with instructions for filling up the Application Forms will be available at the website of the Commission from 05.08.2020
➢Candidates are advised to go through the instructions and all the eligibility conditions prescribed for the post before filing the online Application Form.
➢Last date for filing of online Application complete in all respects along with the requisite fee (online mode only) is 04.09.2020.
➢The last date for receipt of online applications provided in notification shall be the cut off date for determining the Eligibility as regards educational and professional qualifications.
➢Horizontal reservation shall apply in accordance with the relevant rules.
➢Candidates are not required to submit a hard copy or any other documents to the Commission.
➢However such of the candidates as are declared qualified on the basis of Written Test shall be required to submit the Original documents in support of their candidature on the dates at venues to be notified separately.
➢The tentative date of examination (Written Test) is 01.11.2020.
➢The posts carry the pay scale of Rs.52700-166700(Level 9)
NOTE

➢
a)The Indian Medical Council Act, 1956 is applicable to the Union Territory of Jammu and Kashmir, as such, the provision of Sec.15 & 25 of Indian Medical Council (IMC) Act, 1956 are applicable for determination of eligibility of candidates.
b)Candidates provisionally registered with Medical Council of India/Medical Council of Union Territory of Jammu and Kashmir are not eligiblefor recruitment as Medical Officer in Government Service.
c)The selectee(s) shall not be allowedto continue with PG/tenures of Senior Residency/Registrarship/Demonstratorship and they will have only one choice either to opt for selection or opt out and go for PG/tenures of Senior Residency/Registrarship/Demonstratorship.
d)The selectee(s) on appointment will have to work in peripheral and far-flung areas of the Union Territory of Jammu and Kashmir.
Go Back To SNEA.
What Is the official site for Medical Officer Posts JKPSC Recruitment 2020?
What is the last date for Medical Officer Posts JKPSC Recruitment 2020?
Starting Date to Apply Online: 05-08-2020 at 10:00 AM
Last Date to Apply Online & Payment of fee: 04-09-2020 by 23:59 PM
Tentative Date for Written Test: 01-11-2020
How to apply for Medical Officer Posts JKPSC Recruitment 2020?
ALSO SEE
JKPSC Recruitment 2020: Apply online for JKPSC jobs across India through sarkarinaukrieasyalert.com , a top leading job portal in India, where you can find all types of useful recruitment information like Sarkari Naukri, Railway Recruitment, BEL Recruitment, Police Recruitment, Bank jobs and also Jammu & Kashmir PSC recruitment.
Jammu and Kashmir Public Service Commission (JKPSC) is coming into force with a formal state agency constituted by the Constitution of Jammu and Kashmir State Bengal and serviced by a Chairman and Secretariat officers and staff.The governor of State Public Service Commission (JKPSC) shares the experience in all matters relating to the recruitment of civil services for civil posts.
Here in "JKPSC job openings" page we list latest and upcoming active jobs and Recently closed jobs of Jammu and Kashmir Public Service Commission. This is not just an ordinary job portal. Along with the current vacancies, it also provides details about the application process, selection process, criteria for applying, jobs opening, jobs location, jobs position, links for downloading or online applications and also the important dates of JKPSC recruitment 2020.
The selection process for the candidates will be done based on performance in written test, educational qualification & interview.
The JKPSC has written examination conducted into two stages of written exams i.e. Preliminary and Main Examination. The written test includes General Knowledge, English, Mathematics and any one optional subject related to the degree.Find more details and latest updates about JKPSC Jobs 2020, JKPSC recruitment notification, exam schedules, results, allotments, exam alert, syllabus etc. in Freshersworld.com.For the preparation of JKPSC Exams, Freshersworld will guide with the help of placement papers available in power preparation or else there are also options to buy online material or download the syllabus and material.
Candidates & freshers can follow our active Jammu and Kashmir Public Service Commission recruitment notifications to apply online application for an Exam, freshers can also subscribe to our freejobalert, Sarkari Result and Employment News to get instant messages or notifications related to JKPSC recruitment 2020.
People who are eagerly waiting for job vacancies they can easily apply through Freshersworld because we list all the useful details and notifications. So that the candidates will not be confused while applying for jobs. We will inform you about Jobs in JKPSC hiring at the earliest. Be the first one to apply. Be the first one to get hired.
Therein, using the duties and principles followed by the Government of India or the Government of a State during its functioning for the civil services posts in Jammu and Kashmir Public Service Commission Recruitment, applicants select for an appointment, transfers or promotions.
This page is relating to all latest recruitment notification and job openings related to JKPSC jobs 2020 for various services and posts with details as given:• Junior Assistant Tourism• SRF Genetics/ SRF Life Sciences
• JRF Geo-informatics• JRF Molecular Biology• Technical Assistant/Assistant Engineer/ Junior Engineer • Field Investigators Jammu and Kashmir Public Service Commission has delivered various employment notifications for state government organizations and to announce the results and provisional allotments to the selected candidates.