CMS UPSC EXAMINTION, 2020 Interview Schedule Released..!!
CMS (COMBINED MEDICAL SERVICES EXAMINATION) UPSC EXAMINATION, 2020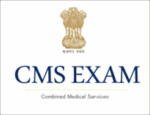 The Combined Medical Services Examination or the CMS Examination is conducted by the Union Public Service Commission for recruitment as Medical Officer in various organizations such as the Indian Ordnance Factories, Indian Railways, Municipal Corporation of Delhi, New Delhi Municipal Council functioning under the Government of India.
The Notification for the examination is usually released in the month of April and examination is conducted in July. Successful candidates are admitted after an interview conducted by the UPSC for those having qualified the written examination.
DATES

HOW TO APPLY

DATE FOR APPLICATION FORM : 29.07.2020
LAST DATE FOR APPLICATION FORM : 18.08.2020
The online Applications can be withdrawn from: 25.08.2020 to 31.08.2020
DATE FOR ADMIT CARD : september 2020
DATE OF EXAMINATION : 20-10-2020
RESULT OF EXAMINATION : november, 2020
Candidates are required to apply online by using the website

CLICK HERE

ADMIT CARD

ELIGIBILITY

Candidates can check for their admit card on the wesite CLICK HERE
(a) a Citizen of India, or
(b) a subject of Nepal, or
(c) a subject of Bhutan, or
(d) a Tibetan refugee who came over to India before the 1st January, 1962 with the intention of permanently settling in India. or
(e) a person of Indian origin who has migrated from Pakistan, Burma, Sri Lanka or East African Countries of Kenya, Uganda, the United Republic of Tanzania, Zambia, Malawi, Zaire and Ethiopia or from Vietnam with the intention of permanently settling in India.

MINIMUM EDUCATIONAL QUALIFICATION

FEES

For admission to the examination a candidate should have passed the written and practical parts
of the final M.B.B.S. Examination.
1. MALES – 200/-
2. FEMALES – NIL
3. SC/ST/PWD – NIL

VACANCY

AGE LIMIT

559
32 years as on 1st August, 2020, i.e. the candidate must have been born not earlier than 2nd August, 1988
AGE RELAXATION
1. SC/ST – 5 YEARS
2. OBC – 3 YEARS
3. EX-SERVICEMAN – 5 YEARS
CMSE RECRIUTMENT 2020
DETAILED INFORMATION ABOUT EXAMINATION IS GIVEN BELOW
CENTERS OF EXAMINATION FOR CMSE
The Examination will be held at the following centres:
AGARTALA IMPHAL PRAYAGRAJ (ALLAHABAD) AHMEDABAD ITANAGAR RAIPUR AIZWAL JAIPUR RANCHI BENGALURU JAMMU SAMBALPUR BAREILLY JORHAT SHILLONG BHOPAL KOCHI SHIMLA CHANDIGARH KOHIMA SRINAGAR CHENNAI KOLKATA THIRUVANATHAPURAM CUTTACK LUCKNOW TIRUPATI DEHRADUN MADURAI UDAIPUR DELHI MUMBAI VISHAKHAPATNAM DHARWAD NAGPUR DISPUR PANAJI (GOA) GANGTOK PATNA HYDERABAD PORT BLAIR
CMSE POST
Category-I
Junior Scale Posts in Central Health Service – 182
Category-II
(i)Assistant Divisional Medical Officer – 300 in the Railways.
(ii)Assistant Medical Officer in Indian Ordnance Factories Health Service. – 66
(iii)General Duty Medical Officer in New Delhi Municipal Council. – 04
(iv)General duty Medical Officer Gr-II in East Delhi Municipal Corporation, North Delhi Municipal Corporation and South Delhi Municipal Corporation – 07
DOCUMENTS REQUIRED

SCHEME OF EXAMINATION FOR CMSE
Part-I COMPUTER BASED EXAMINATION – (500 marks)
The candidates will take the Computer based examination in two Papers, each Paper carrying a maximum of 250 marks. Each Paper will be of two hours duration.
A) Paper I Maximum (Code No. 1) Marks: 250
General Medicine and Paediatrics:Total questions in Paper I = 120 (96 from General Medicine and 24 from Paediatrics)
B) Paper II Maximum (Code No. 2) Marks : 250
(a) Surgery (b) Gynaecology & Obstetrics(c) Preventive & Social Medicine Total questions in Paper II = 120 (40 questions from each part)
Part-II Personality Test: (100 Marks)
Personality test carrying 100 marks of such of the candidates who qualify on the results of the Computer based examination.
SYLLABUS FOR CMSE
Syllabus of Paper-I
(a) General Medicine including the following:
(i) Cardiology
(ii) Respiratory diseases
(iii) Gastro-intestinal
(iv) Genito-Urinary
(v) Neurology
(vi) Hematology
(vii) Endocrinology
(viii) Metabolic disorders
(ix) Infections/Communicable Diseases –a) Virus b) Rickets c) Bacterial d) Spirochetal e) Protozoan f) Metazoan g) Fungus
(x) Nutrition/Growth
(xi) Diseases of the skin (Dermatology)
(xii) Musculoskelatal System
(xiii) Psychiatry
(xiv) General
(xv) Emergency Medicine
(xvi) Common Poisoning
(xvii) Snake bite
(xviii) Tropical Medicine
(xix) Critical Care Medicine
(xx) Emphasis on medical procedures
(xxi) Patho physiological basis of diseases
(xxii) Vaccines preventable diseases and Non vaccines preventable diseases
(xxiii) Vitamin deficiency diseases
(xxiv) In psychiatry include – Depression, psychosis, anxiety, bipolar diseases and Schizoprenia.
(b) Paediatrics including the following –
(i) Common childhood emergencies,
(ii) Basic new born care,
(iii) Normal developmental milestones,
(iv) Accidents and poisonings in children,
(v) Birth defects and counseling including autism,
(vi) Immunization in children,
(vii) Recognizing children with special needs and management, and
(viii) National programmes related to child health.
Syllabus of Paper – II
(a) Surgery (Surgery including ENT, Ophthalmology, Traumatology and Orthopaedics)
(I) General Surgery i) Wounds ii) Infections iii) Tumours iv) Lymphatic v) Blood vessels vi) Cysts/sinuses vii) Head and neck viii) Breast ix) Alimentary tract a) Oesophagus b) Stomach c) Intestines d) Anus e) Developmental x) Liver, Bile, Pancreas xi) Spleen xii) Peritoneum xiii) Abdominal wall xiv) Abdominal injuries
(II) Urological Surgery (III) Neuro Surgery (IV) Otorhinolaryngology E.N.T. (V) Thoracic surgery (VI) Orthopedic surgery (VII) Ophthalmology (VIII) Anesthesiology (IX) Traumatology (X) Diagnosis and management of common surgical ailments (XI) Pre-operative and post operative care of surgical patients (XII) Medicolegal and ethical issues of surgery (XIII) Wound healing (XIV) Fluid and electrolyte management in surgery (XV) Shock patho-physiology and management.
(b) GYNAECOLOGY & OBSTETRICS
(I) OBSTETRICS i) Ante-natal conditions ii) Intra-natal conditions iii) Post-natal conditions iv) Management of normal labours or complicated labour
(II) GYNAECOLOGY i) Questions on applied anatomy ii) Questions on applied physiology of menstruation and fertilization iii) Questions on infections in genital tract iv) Questions on neoplasma in the genital tract v) Questions on displacement of the uterus vi)Normal delivery and safe delivery practices vii) High risk pregnancy and management viii) Abortions ix) Intra Uterine growth retardation x) Medicolegal examination in obgy and Gynae including Rape.
(III) FAMILY PLANNING i) Conventional contraceptives 15 ii) U.D. and oral pills iii) Operative procedure, sterilization and organization of programmes in the urban and rural surroundings iv) Medical Termination of Pregnancy
(c) PREVENTIVE SOCIAL AND COMMUNITY MEDICINE
I Social and Community Medicine
II Concept of Health, Disease and Preventive Medicine
III Health Administration and Planning
IV General Epidemiology V Demography and Health Statistics
VI Communicable Diseases
VII Environmental Health
VIII Nutrition and Health
IX Non-communicable diseases
X Occupational Health
XI Genetics and Health
XII International Health
XIII Medical Sociology and Health Education
XIV Maternal and Child Health
XV National Programmes
XVI Management of common health problems
XVII Ability to monitor national health programmes
XVIII Knowledge of maternal and child wellness
XIX Ability to recognize, investigate, report, plan and manage community health problems including malnutrition and emergencies.
REFERENCE BOOKS FOR CMSE UPSC 2020
Elsevier comprehensive guide to combined medical services by Rajeev Kumar
Review of combined medical services by Nayak
Combined medical services by Bhatia
Drug Interaction, Analysis & management by Hansten P. D. Horn
CMSE QUESTION PAPERS AND ANSWER KEY
AFTER EXAM QUALIFICATION TEST

Interview Schedule
Written Exam Result
Admit Card Download
Examination Time Table
Notice Regarding Fee & Rejection List
UPSC OFFICIAL WEBSITE
CMS UPSC OFFICIAL NOTIFICATION
What is the exam date for cmse upsc 2020?
the exam date for cmse upsc 2020 is 22.10.2020
What is the fees for cmse upsc 2020?
1. MALES – 200/-
2. FEMALES – NIL
3. SC/ST/PWD – NIL
How many vacancies are their for cmse upsc 2020?
What is the minimum educational qualification for cmse upsc 2020?
candidate should have passed the written and practical parts
of the final M.B.B.S. Examination.
what is the age limit for cmse upsc 2020?
FOR UPSC EXAMS 2020 DO CHECK THE BELOW LINK:
CDS 2020 : CLICK HERE
CSE 2020 : CLICK HERE
NDA AND NA II 2020 : CLICK HERE
ISS 2020 : CLICK HERE
CAPF 2020 : CLICK HERE
CMS EXAMINATION 2020 : CLICK HERE
ALL THE BEST FOR YOUR PREPERATIONS 😉